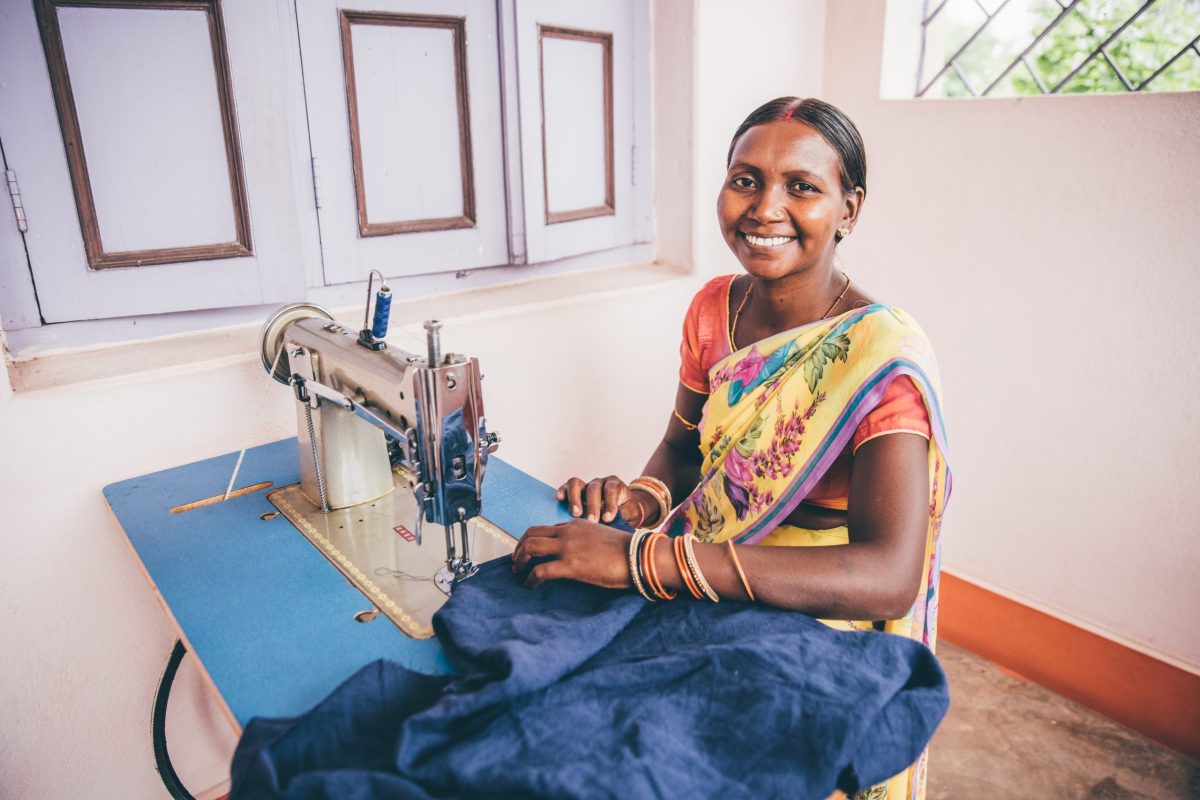 Feeding 21 families in India is keeping Ana up at night
0 comments
By Good Magazine - May 21, 2021
From a garage in rural Waikato, Kiwi seamstress Ana Wilkinson-Gee keeps sewing dresses to sell, in order to keep funding the village women she usually lives with in rural India.

Prior to her evacuation last year, Ana walked the dirt lanes to her sewing house on the other side of the village and spent days immersed in local language, spicy flavours and colourful fabrics.

Overlooking vibrant green rice paddy fields, the sewing house provides a safe place for women to come and develop their sense of self-worth and identity, through sewing training and fair employment. Becoming the main breadwinners for their households has been a game changer for these women who once felt they had little influence or voice. Ana observed that a lack of importance is often compounded by not having a birth certificate. 
"When you're born under a tree, there is no one there handing out birth certificates," she explains. 

Applying the holistic approach of ethical fashion and using her white privilege to benefit her 21 seamstresses, Ana literally held doors open and spent days in government offices helping her staff to obtain government issued ID cards, opening bank accounts in their names so they no longer feel invisible.  

While in New Zealand due to the global pandemic, Ana's new daily walk to work has been the concrete driveway to the garage overlooking lush Waikato farmland. The highlight of each day has been seeing her seamstresses' smiley faces on video calls and continuing to walk them through production, albeit remotely.

However, with the latest explosion of Covid-19 in India the sewing house is now closed for a strict lockdown and the ladies are 'staying home, staying safe'. There is no government financial support to help their small ethical fashion business in India or their staff. Ana has spent many sleepless nights thinking of her ladies' wellbeing and their families.   

"It keeps me awake at night, thinking how I can continue to provide support for my ladies in India and their families," she says.  

"They still need to get paid even though our sewing house is closed and production has stopped. They still need to eat." 

So, Ana began pattern making, sewing and selling dresses to generate cash flow so she can continue paying her seamstresses in India. Designed and mostly sewn in her garage, the New Zealand-made collection is now on her website, Holi Boli.

Other New Zealand retailers have joined with Ana to become part of the solution and have started buying and stocking the Holi Boli clothing brand.

You can support this industrious social enterprise business by shopping direct or with their stockists; Tonic&Cloth in Palmerston North, Browns Boutique in Eastridge Mall and Greenwoods Corner, Madame Fancy Pants in Cuba Street and Greytown, Two Lippy Ladies in Napier and Looking Good in Kihikihi, Te Awamutu. 

"I will do everything in my power to not let their empowerment be taken away from them," says Ana. 
0 comments