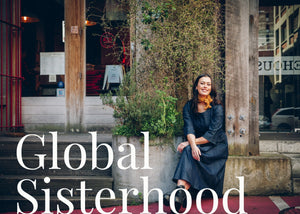 Global Sisterhood Collection
An inaugural collection celebrating the growth and extension of our reach to empower more women in hard-to-reach-places. This collection includes luxurious linens and breathable cottons carefully made into feminine, wearable garments (with pockets!) by our new partner production teams in North India and Cambodia, as well as by our own talented seamstresses at Holi Boli Bhalupai, India. We also continue to make local in New Zealand.

This collection has been designed in New Zealand by recently repatriated entrepreneur/fashion designer Ana Wilkinson-Gee. The styles are made for real women and modelled by real women.

Holi Boli partnered with the fabulous age-positive model agency Silverfox in Auckland for the photoshoot, to bring a beautiful diverse range of ages, shapes and ethnicities.
The Global Sisterhood Collection is a celebration of women partnering with women, to lift each other up.

Beauty is spirit, not size.