Women living free & dignified
Your garment was carefully and skilfully made by an empowered woman. These women aren't nameless labourers, they are like our sisters. Each have precious hopes for the future and fierce determination to provide for their families. They are empowered through a fair wage, safe working conditions and meaningful employment. They are gaining the respect of their families and community. They are living lives of freedom and dignity.
Our Philosophy ›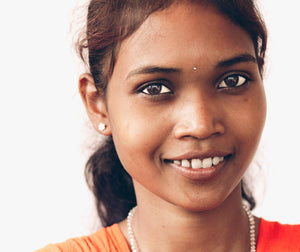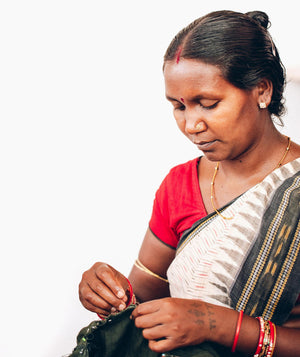 How we empower our women:
1. We pay a fair wage
2. We train women in design, pattern making and sewing skills
3. We offer family-friendly working hours
4. We provide a safe, respectful workplace where women are valued
5. We help women set up bank accounts and obtain government ID cards
Shop now ›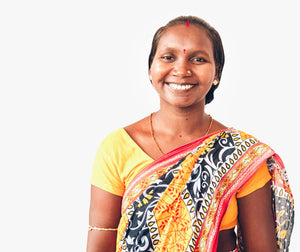 Janaki
I am married with one school-age daughter. I am proud to help provide financially for my family through my work at Holi Boli. I love working at Holi Boli because I feel like I'm part of a second family here and everyone really cares about me. I enjoy learning how to sew new designs and love meeting new people.
Ana
I had an interest in India and textiles for as long as I can remember. I studied Fashion Design in Christchurch, NZ and since then I've never stopped making beautiful clothing! Having spent some of my childhood growing up in developing countries, it was my dream to use my skills to help empower other women. It is my privilege and responsibility to provide a safe and caring environment for my sisters here in India. Their empowerment is my reward.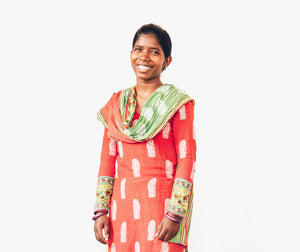 Asmati
I used to work in the paddy fields and do household chores. Then I heard about Holi Boli from a friend. My family knew that I wanted to do an indoors sewing job, so they let me go to the sewing classes at Holi Boli. I never imagined I could work as a professional seamstress. I am so happy to work at Holi Boli, it is a dream come true. It is a safe place and I am proud to be contributing financially to my family.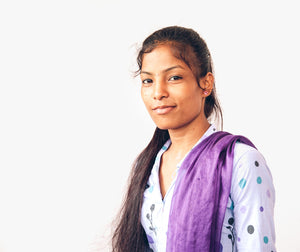 Sandhya
Since working at Holi Boli my personal confidence has grown so much, it is mind blowing to me. I feel really happy and comfortable at Holi Boli. The Holi Boli sewing house is like my second-home. I feel like I belong here.
Sasmita
I am married and have a toddler. I was happy to return to my childhood village to learn sewing and join Holi Boli. I am the breadwinner in my family and was fully paid throughout my pregnancy and time off. My family lives just down the road so my little son loves to come visit all his Holi Boli "aunties" several times a day.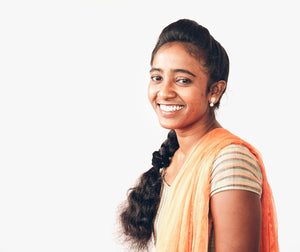 Banumati
My parents allowed me to learn sewing at Holi Boli because the sewing house is just down the road from where we live. I wanted to learn so that I could get a job in a tailor shop - it was very exciting when Holi Boli offered me a job! I have learnt so many designs and am happy to support my family financially. I feel proud when models wear our garments and customers appreciate and support our work.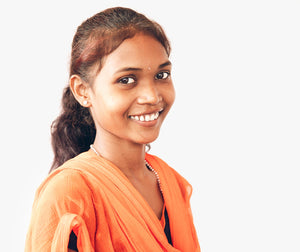 Rubina
After my father passed away my family and I faced financial difficulty. My sister had heard about the sewing classes at Holi Boli and suggested that I go and learn sewing so that I could get a better job than carrying bricks at construction sites or working in the rice paddy fields. I am so happy to have a job at Holi Boli. It is a safe place for women to work.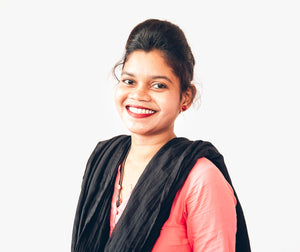 Lakshmi
I was the very first staff member at Holi Boli! I did a sewing class with Ana back in 2014 and then she gave me a job. I love working at Holi Boli, the environment is friendly and it feels so safe for me. I used to be a shy person but now I feel comfortable mingling with people. I am proud because now I can support my family financially.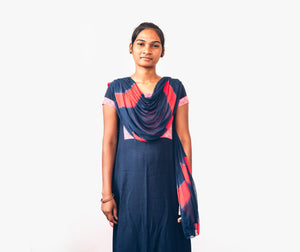 Nini
I was very happy for the opportunity to learn sewing at the Holi Boli sewing house in 2014. I became an assistant teacher at the sewing class after that. I also sew for my family, myself and for other families in the village. I feel independent and I can help myself and my family now.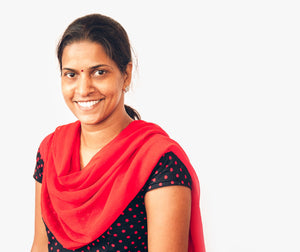 Sanghamitra
I did the sewing class training at Holi Boli and then got a job at a tailor shop. But I wanted to work at Holi Boli so was overjoyed when Ana offered me a job. I am happy and proud to be part of the Holi Boli staff. I am saving my income for my son's higher education.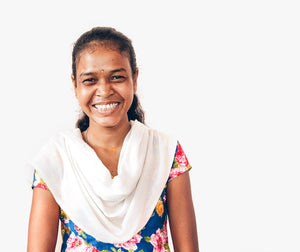 Arati
My brother has a tailor shop so I knew a bit of sewing but I wanted to learn more. I cycled 10km's every day to get to the sewing class at Holi Boli. Then I got offered a job there - my family say that is success! I stay with my relatives nearer the Holi Boli house now. My family respect me more and I feel really happy and proud to be a seamstress at Holi Boli and learn international designs.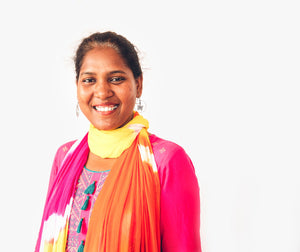 Bonita
I was aimless in my life. I found out about a Holi Boli sewing class and signed up. I enjoyed it so much that I did two courses back to back. Now I am the Head Teacher at Holi Boli! I'm really grateful for having a purposeful life now and being able to help women like me.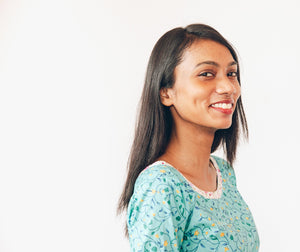 Nissi
I completed my Bachelor of Business Administration and then did the Holi Boli sewing course because I've always loved fashion. Now I've joined Holi Boli as the Junior Manager. I enjoy combining my skills and my passion in the same job for a great company that exists to empower women and produce beautiful, international standard quality clothing.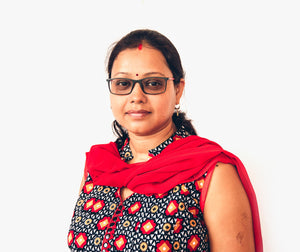 Smruti
I joined the Holi Boli team after completing my sewing training in February 2019. I have an eye for detail so love ensuring that every garment going to our customers is perfect.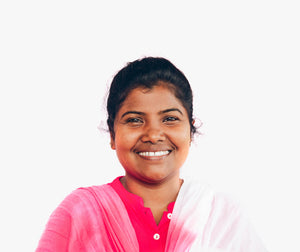 Pramila
I grew up watching my mum sew. I am proud to be an independent woman who can support my family financially. I am happy to be part of the Holi Boli staff as I've got a new family here and I enjoy spending my time doing productive things. I get a sense of purpose doing this work at Holi Boli.
Our Environment ›