true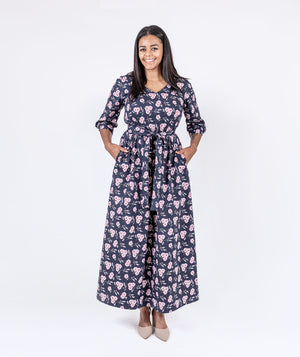 The stunning Floral Twill Dress by Holi Boli is made from a luxuriously smooth, 100% cotton twill. The V-neck, tailored shoulders and darts give form and shape to the bodice, which cinches in with adjustable, thin sash ties around the waist. Gathers on the skirt provide interest while the long skirt adds drape and elegance. Generous side pockets give the dress practicality. The twill fabric is sturdy and smooth with a semi-brushed, matt finish.
Fabrics and certification
100% cotton
This fabric is from sustainability conscious supplier Wall Fabrics in Auckland, New Zealand. Wall Fabrics rescue end of roll fabrics to save them from going to landfill. 
Find out more about our ethical practices