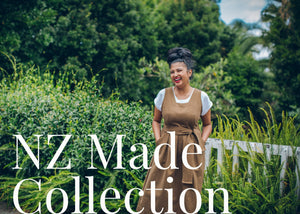 NZ Made Collection
Challenges Bring Opportunities
Challenges of the global pandemic, a three month lockdown in India and repatriation to NZ has resulted in opportunities including  a New Zealand production run of dresses for Holi Boli. Confirming and affirming our values of kindness, integrity and quality, our community of strong women lifting others up has gone viral, as NZ retailers and conscious shoppers choose to buy ethical fashion.
When big brands were cancelling their orders with their manufacturers, Holi Boli and our social enterprise partners and retailers remained committed and loyal to our ethos of empowering women in hard to reach places. We have continued to pay our seamstresses in India throughout the three months while our sewing house there was closed due to Covid-19. While our stock in India was also in lockdown, we created and manufactured a new range of dresses from locally sourced, "rescued" fabrics in New Zealand. This range continues to provide wages and relief for our ladies in India during this crazy global time.
We are strong women who lift others up, together a global sisterhood bringing love, collaboration and delicious linen and cotton dresses to the fashion world.