true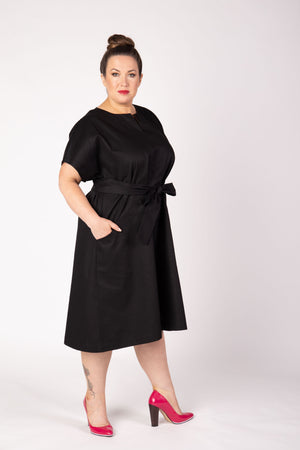 The Obi Dress - Tuxedo Black
We first did a super short production run of these for NZ Fashion Week - now they're back! Pockets. Pull over. Easy wear. Elastic tie detail (detachable), scoop neckline with a split. The Obi Dress in Tuxedo Black is made from Cotton Drill, here in New Zealand.
This is such an easy-wear dress, whether you wear as is for a light and breezy feel, or layer it as the months get colder. 

The cut is also roomy.
Our new XS accommodates Size 6-Size 10

Garment Measurements
Length - 110 cm
Armhole Opening - 48 cm
Shoulder to bust - 30 cm
Split opening at neckline - 11 cm
Circumference Bust - 102

Circumference Waist -102
Circumference Hem - 168 cm 
S accommodates Size 10 - Size 14

Garment Measurements
Length - 112 cm
Armhole Opening - 52 cm
Shoulder to bust -30 cm
Split opening at neckline - 11 cm
Circumference bust - 118 cm
Circumference waist - 118 cm
Circumference hem - 180 cm
M accommodates Size 14- Size 16
Length - 114 cm
Armhole Opening - 56 cm
Shoulder to bust - 32 cm
Split opening at neckline - 11 cm
Circumference bust - 126 cm
Circumference waist - 126 cm
Circumference hem - 190 cm
L accommodates  Size 16 - Size 20
Length - 114 cm
Armhole Opening - 56 cm
Shoulder to bust - 34 cm
Split opening at neckline - 11 cm
Circumference bust - 126 cm 
Circumference waist - 138 cm
Circumference bust - 200 cm 
Pictured here is the Black Cotton Drill version, also available in Electric Tangerine Linen, and Organic Denim