true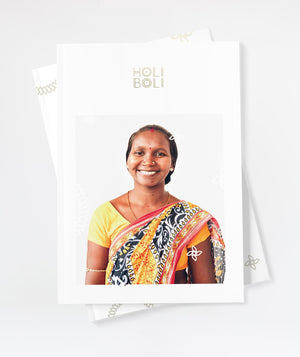 Holi Boli Thoughtfulness Journal
A beautiful journal that unpacks some of the Holi Boli 'why's' and is a place for you to explore yours.
Be inspired by the thoughts behind transformational business and what it means for women in our community.   
The proceeds from your journal sale help to keep our team empowered with wages plus provides extra support for our community, such as covering medical bills and unexpected needs as they arise during this unpredictable time. 
Excerpt from page 26;
  As tears roll down her cheeks, a sewing student exclaims, "I am finally good at something!" Elated, holding the first certificate she's ever received, she leaves as a proud graduate of our 4 month sewing class. We think that new skills can create new opportunities, a brighter future and a healthy sense of increased personal value.